By indian | December 6, 2009
Recently The (IOA) Indian Olympic Association stated that Delhi will bid for the 2020 Olympic Games. Delhi is already a spot venue for the 2010 Common-wealth games. India will co-host the 2011 World Cup Cricket Matches. "We will start our preparations as soon as the 2010 Commonwealth Games are over," exclaimed by Suresh Kalmadi- IOA president.
2020 Game's bidding process will open on 2011. Jacques Rogge- International Olympic Committee president of India will inaugurate an Olympic facility, told Kalmadi that the country should bid for 2020. "I think you have great potential based on the general conditions of your country's progress, which will definitely also evolve in a positive way at the time when the Games are awarded in 2013," said by Kalmadi. We all have a lot of expectations from India & we in IOC think that India have great potential in sports.
Topics: Olympic News | No Comments »
By indian | October 1, 2009
1. Sir Dorabji Tata 1927-1928
2. Maharaja Bhupindra Singh 1928-1938
3. Maharaja Yadavindra Singh 1938-1960
4. Raja Bhalindra Singh 1960-1975
5. Air Chief Marshal OP Mehra 1976-1980
6. Raja Bhalindra Singh 1980-1984
7. Mr. V C Shukla 1984-1987
8. Dr. Sivanthi Adityan 1987-1996
Topics: IOA | No Comments »
By indian | September 10, 2009
The NY Times come up with a mind blowing Innovative Map of Olympic from the history which check out the medal counts by country. The Circles showing bubble are sized by the number of medals each country won, you need to just draw your mouse to the bubble which will display a list of its medal winners. You can check out the medal counts by country and detail of the event for every Summer Games since the modern Olympic Games began in 1896.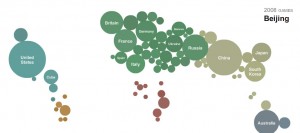 Lee Byron compiled this map, among other contributors Amanda Cox & Matthew Ericson from The New York Times. The map is based on information from International Olympic committee.
Topics: Interactive Map, Olympic News | No Comments »
« Previous Entries
Next Entries »